New Paso Robles Wine Country Winery Map & Comprehensive Guide Unveiled By Wine Folly And Paso Robles Wine Country
May 10th, 2023
Paso Robles, California (May 10, 2023) – The Paso Robles Wine Country Alliance (pasowine.com) and Wine Folly (winefolly.com) are excited to announce the release of two new products, the official Paso Robles Wine Country Winery Map and the Paso Robles Wine Country Guide. This collaboration brings together the expertise of both organizations to create a comprehensive guide and touring map to the Paso Robles wine region.
Introducing the New Winery Map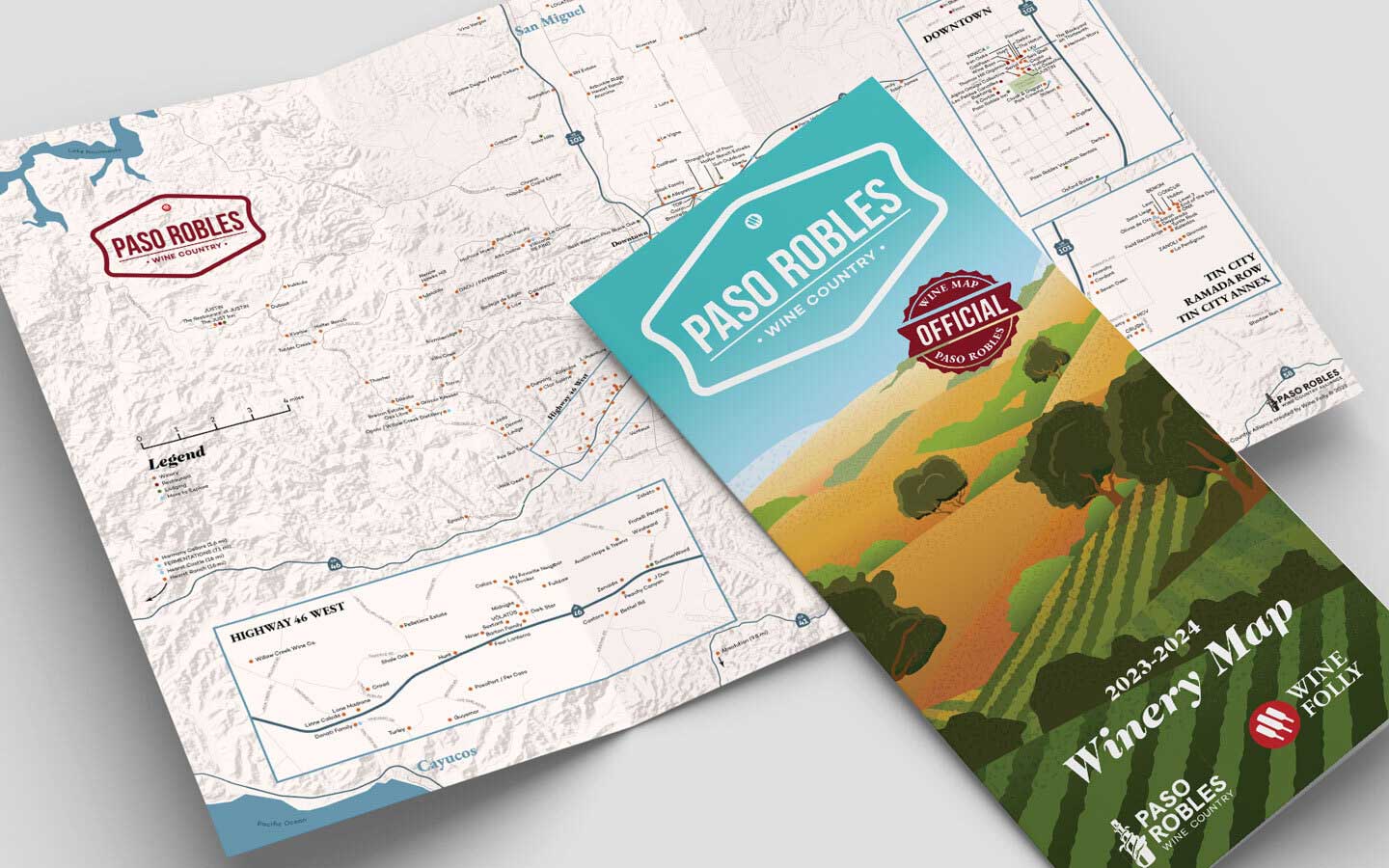 The new winery map is designed by the Wine Folly team, who worked directly with the wineries and the Paso Robles Wine Country Alliance (PRWCA) to ensure accuracy. This new map features all 176 members of the PRWCA as well as 40 hospitality partners. The map will be distributed in the region and beyond, with 75,000 copies to be printed and available at hospitality partners, hotels, airports, and more.
Discover the Comprehensive Wine Country Guide
The new guide is a 60-page educational tool that includes detailed descriptions of all member wineries as well as pages dedicated to the region's history, terroir, events, wine types, and more. Leveraged by the Digital Regional Guide (paso.guides.winefolly.com) that Wine Folly produced in 2022 , this guide provides visitors with valuable information about the Paso Robles wine region. Having extensive producer led information already categorized in Wine Folly's data systems, this made the production process seamless.
This is Wine Folly's first printed guide and companion map.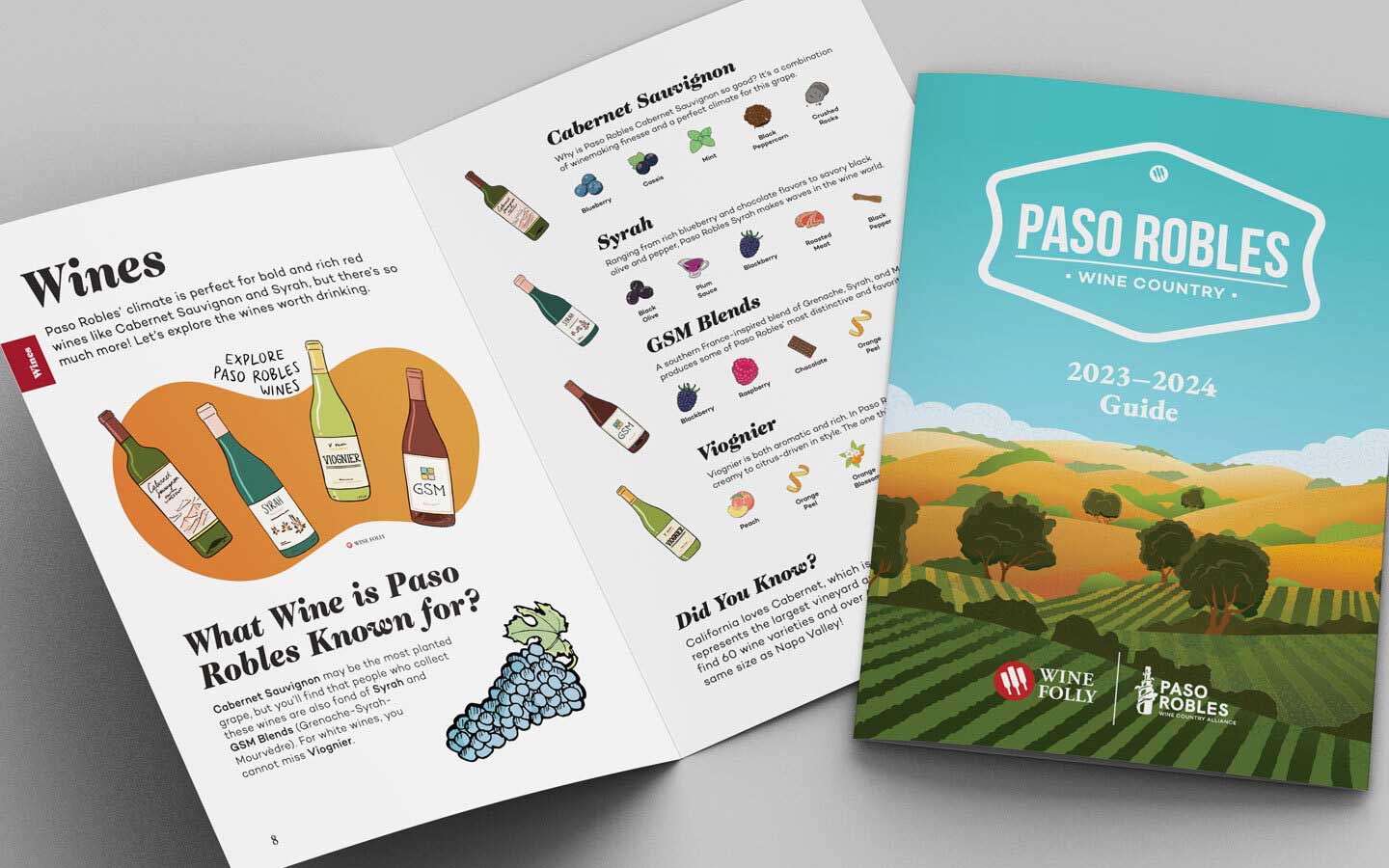 Collaborating for Success
"Partnering with Paso Wine to create this new map and guide was an exciting opportunity for us at Wine Folly," said David Gluzman, CEO of Wine Folly. "It allowed us to extend the work we've previously done digitally and showcase the region in beautifully designed printed materials. We're proud to have worked with the Paso Wine team and its members to create something that accurately represents the region and its wineries."
"Having made wine maps from around the world, this was the first time we've managed to plot down with extreme accuracy each individual winery using data from the producers" said Madeline Puckette, Founder of Wine Folly. "We hope this new map and guide will encourage more people to explore Paso Wine Country and discover the exceptional wines produced there."
Availability and Upcoming Event
Both the official Paso Robles Wine Country Winery Map and the Paso Robles Wine Country Guide will be available on Pasowine.com and through Winefolly.com beginning the week of May 15, in conjunction with the 40th annual Paso Wine Fest (pasowine.com/winefest/).
"Working with Wine Folly on these pieces was a logical choice as we grow and expand the reach for Paso Wine Country, and they look amazing," said Joel Peterson, Executive Director of the PRWCA. "It will be the new standard in creating an accurate regional wine map and guide for the Paso Robles wine region."
---
ABOUT PASO ROBLES WINE COUNTRY ALLIANCE
The Paso Robles Wine Country Alliance is the official trade and marketing organization that represents wineries, growers, and businesses in the Paso Robles American Viticultural Area. Centrally located between San Francisco and Los Angeles, along California's Central Coast, Paso Robles Wine Country encompasses more than 40,000 vineyard acres and 200 wineries. For more information, visit pasowine.com. Facebook- @PasoRoblesWine, Instagram and Twitter - @Pasowine, #pasowine
ABOUT WINE FOLLY
Wine Folly connects people to wine. Through online discovery, people connect with the stories and people who are making great wines. The site offers educational products, engaging content, and a web portal to a progressive, knowledge-driven wine culture. Wine Folly prides itself in using accurate wine information sourced directly from wine producers. Wine Folly is one of the largest resources for people to learn about wine with over 20 million people connecting with Wine Folly's website and social media. For more information please visit: WineFolly.com
CONTACT
Christopher Taranto
Communications Director
Paso Robles Wine Country Alliance
ctaranto@pasowine.com
Solutions for the modern world of wine
It is our passion, drive, and folly to serve our industry as stewards of information and advocate for wine in our future.